ABOUT US
KURIS ENTEGRE AGAC SAN.VE TIC. A.S. is the company above 100 years, dealing with manufacturing, distributing, wholeselling, exporting, importing and construction planning activities as Kuris Entegre A.S. is one of the biggest companies in Turkey,
It is a well known family company with more than 350 experienced staff and 8 other own warehouses.

Manufacturing of veneer faced mdf, veneered faced chipboard with natural and engineered veneer, plywood with film faced and commercial, finger jointed panels and veneers

Its product portfolio is briefly as follows ;
VENEER FACED BOARDS : MDFKAP - Veneer Faced MDF covered mdf with the veneers
YONKAP - Veneer Faced Chipboard with two different qualities of each classification.
VENEERS : Being produced from the high quality wood logs such as Beech, Oak, Pine and Sapelli.

WOOD PANELS ( Massive panels) : Being produced with the combination of flawless pieces of woods, such as Oak, Beech, Sapelli, Pine and Spruce and are classified as;

EDGE GLUED WOOD PANELS - Which are produced by the combination of solid lamellas and
FINGER JOINTED PANELS (F.J.P) - Edge Glued Wood Panels which are produced by the combination of finger jointed lamellas
PLYWOOD : COMMERCIAL - Beech, Egzotic, Poplar,Birch etc with MR and WBP Glue
FILM FACED - Dark Brown Film, Soft wood (Birch or Poplar), Hard and softwood mixed , with WBP Glue

Veneer
Straight and cutting method of the eccentric of the selected ingot obtained by drying and ironing machines were veneer.Modern pattern, color and size are based on.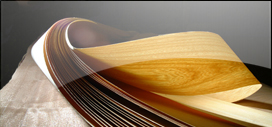 High Tecnology
Natural and artificial plants produce our high-quality wood coatings, different thickness on one side of the mdf and chips plate, two hundred to two hundred different trees according to the liner and the coating is pressed.